A world's fair, world exposition, or universal exposition (sometimes expo or Expo for short) is a large public exhibition. These exhibitions vary in character and are held in varying parts of the world. They usually last from three weeks to six months.
Since the 1928 Convention Relating to International Exhibitions came into force, the Bureau International des Expositions (BIE; English: International Exhibitions Bureau) has served as an international sanctioning body for world's fairs. BIE-approved fairs are of three types: universal, international, and specialized.
World's fairs originated in the French tradition of national exhibitions, a tradition that culminated with the French Industrial Exposition of 1844 held in Paris. This fair was followed by other national exhibitions in Europe and the UK.
Since their inception in 1851, the character of world expositions has evolved. Three eras can be distinguished: the era of industrialization, the era of cultural exchange, and the era of nation branding.
One of Jersey's biggest challenges, being a tiny island in a very large world, is of promoting itself and it's unique 'national' branding.  Jersey itself is a unique island with a unique history. A Jersey World Exposition would enable our small island to reach out to the world with an introduction and an invitation to share our story.
The following are all areas where we excel and could be encompassed within the theme of our exhibition.
Community and Civic Pride
The Island Environment
Trade, Industry and Commerce
Culture, History and Heritage
The Digital Sector and Technology
Sport and Entertainment
Our aim would be to involve the whole community.
I have asked my department, Economic Development, Tourism, Sport and Culture, to work with Visit Jersey and Events Jersey to assess the possibility and feasibility of holding such an event to take place between 2019 -2021. The next stage is to present a more detailed plan in early 2017.
Perhaps the main Exhibition could be centered around a newly developed Fort Regent with break-out exhibitions in other key venues such as our castles and museums?
Comments, suggestions and ideas are most welcome:
Click here to see a full list of world expositions
Pictured below: Genoa Expo 1992, held in Genoa, Italy from May 15 to August 15, 1992. The theme was "Christopher Columbus, The Ship and the Sea", and the Expo was timed to celebrate the 500 years since the Discover of America by the Genoese sailor Christopher Columbus. Because of the theme, the expo was also known as Colombiadi. It was a specialized Exhibition with 54 countries represented. Total visitors were 694,800 at an estimated cost of £1.7 million.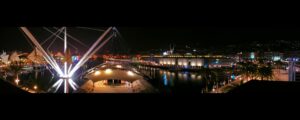 The Yeosu Expo 2012 opened on May 12 in the southern coastal town of Yeosu, approximately 455 kilometers south of Seoul. It was the second international fair hosted by Korea, after the Taejŏn Expo '93.  The expo site for 80 exhibition halls stretched out alongside the sea with promenades and exhibit spaces and the seawalls. The Yeosu Expo also received many positive comments for addressing global issues like climate change and the protection of the ocean through story-telling events.