In June 2017 total employment in Jersey was 61,660 the highest recorded to date.
The latest Jersey Labour Market data suggests that Jersey's economy is stronger in the first half of 2017 than expected. Total employment increased at a rate of 2.2% (June 2017 on June 2016) compared with the Fiscal Policy Panel (FPP) assumption of growth of 1.0% for the year as a whole.
The growth in employment was due to growth of 1,340 or 2.6% in the private sector (with no growth in the public sector) which represents a slightly sharper rate of growth than in December.
The growth in employment was broadly due to an increase in the number of full-time employees. Most sectors saw increased employment with notable increases in private education, health & other services (+430) and construction (+270). Both these sectors saw record employment levels to date.
Employment in the finance sector increased by 250 on an annual basis. This is the highest level since December 2008. Although this was made up of strong growth in trust & company administration to the highest level recorded to date and a fall in banking employment of 180 to a level 1,900 lower than that recorded in late 2007/2008.
When combined with better than expected growth in GVA in 2016, further growth in real earnings in 2017 (even if only very slightly higher than inflation) and the first rise in UK interest rates today for 10 years – which may be a first signal that some of the pressure on banking profitability could start to ease in the future – there are signs that the economy is outperforming expectations in 2017.
In the medium-term the outlook is less clear and the FPP did highlight in their 2017 Annual Report that considerable uncertainty remains particularly with regards to Brexit and the challenges facing financial services.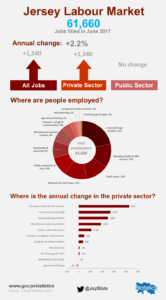 Read the full report here: Jersey Labour Market June 2017
Related Images: