In 2015, there were 718,000 visitors to Jersey. 347,000 stayed overnight, 107,000 were visiting family and friends, 118,000 were business visitors, 108,000 were leisure day trippers, plus there were almost 38,000 additional visits. 70% of visitors arrive from the UK.
On average staying visitors spend £491 and daytrip visitors spend £50. In total, visitors contributed £243 million to the economy and £12.2m generated is GST.
5,230 of all jobs in Jersey are created by tourism, that's 11%. Jersey is served by 40 regional airports and a high speed ferry service to the UK and France. Without tourism, Jersey would have fewer flights, fewer boats & higher costs.
By supporting tourism, you're helping 59 hotels, 36 guest houses, and 32 self-catering providers, 5 campsites, 2 hostels, 4 coach companies, 85 buses, 12 double decker buses, 311 taxis, 253 restaurants and 145 pubs. In turn, these tourist based industries use the services of builders, plumbers, electricians, advertising agencies, utilities and many more.
Information supplied by Visit Jersey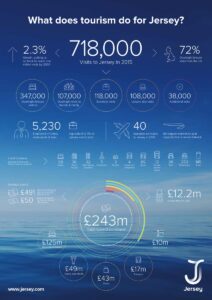 Related Images: