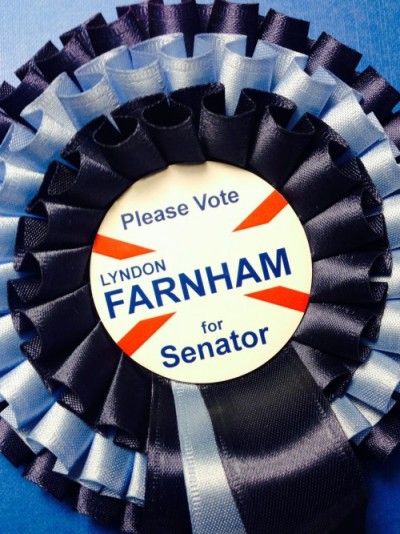 Nomination Paper
proposer and seconders
Advocate Steven Meiklejohn (Proposer)
Jen Geddes
Jonathan Giles
Anna Goncalves
Lawrence Huggler
Paul James
Joan Lowery
Anne Neal
David Woodsford
Dr Richard Worth
STEVEN MEIKLEJOHN'S SPEECH PROPOSING LYNDON FARNHAM
FOR THE OFFICE OF SENATOR (2014)
In 2014, I believe the electorate will be looking for candidates of the highest calibre, patently people with intelligence, integrity and ability.
Tonight I have the honour to propose Lyndon Farnham as Senator.  In my view, Lyndon is someone who possesses the qualities I have described.  Lyndon is 50, born in St Helier and passionate about Jersey.  He is married with two children.
In terms of his credentials, he brings a wealth of experience, both business and political.
As regards business, Lyndon has been a director of a Jersey company since 1987, the company overseeing a wide range of activity in the Island in hotels, leisure, wholesale, retail and property.  Lyndon has almost 30 years experience at the sharp end of running businesses with widespread interests.
In terms of his political experience, before being elected as Senator in 2011, Lyndon was Deputy for St Saviour No. 2 District between 1999 and 2005 and in that time, most notably, held the posts of President of the Gambling Control Committee, Vice President of the Economic Development Committee and Vice President of the Harbours and Airport Committee.  Accordingly, Lyndon is not an unknown quantity.  He has a political track record.  He has shown and continues to show a willingness to take responsibility for high political office.
Lyndon left the States in 2005 to focus primarily on his family and business. However, it will be no surprise to people given Lyndon's track record of service, that he continues to offer his time and talents to the Island.  Currently he is the Assistant Minister at the Home Affairs department and a member of the Justice Advisory panel and the Bailiff's Consultative panel. He is the immediate past President of the Jersey Hospitality Association and a member of the Tourism Marketing Panel.
In terms of Lyndon's approach, I believe it is refreshing; it is about being inclusive, ignoring political labels or factions and focusing on the issues.  Lyndon describes himself as a moderate centre ground politician.
At a personal level, I have found Lyndon to be engaging, humorous and with an ability to reach out to all ages and sections of society.  He is also courageous and principled (his efforts in relation to the vote to reduce the numbers of Senators speaks to that).
In closing, two things in particular strike me about Lyndon's approach and I believe will strike a chord with the electorate:-
Firstly, Lyndon's recognition and belief that politics is about serving the Island first and foremost and not oneself;
And secondly, his determination to bring his considerable talents and experience to dealing with the actual issues of the day and not allowing personalities and political labels to deflect from that.
It is with great pleasure I propose Lyndon Farnham as Senator.